Do you want to try Archery?
You and your friends are welcome to reserve a spot in the trial / beginners training held on Wednesdays, or book a group for an event for a stag/hen party, group of friends or colleagues. Read on and we will tell you how.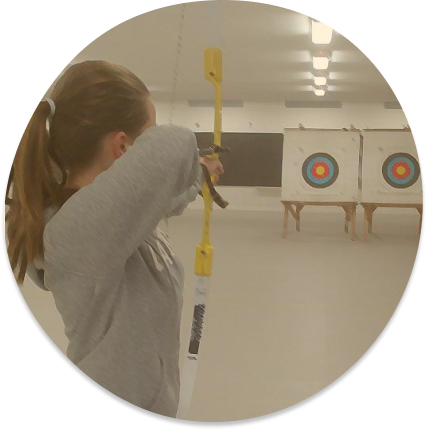 Trial / Beginners training
For you who want to try archery and learn the basics. No experience is needed and you will use our equipment. This is how you make a reservation:
You must always reserve a spot using our booking system
Pay 100 kr using Swish on the range at least 15 minutes before start.
If you are between 10-17 years old you shoot between 6pm and 6:45pm.
If you are an adult you shoot between 7pm and 7:45pm
Questions? Contact provapa@bkgripen.org for answers
Been a member of another club before? Read about our membership.
GOOD TO KNOW
Spots are available from Thursday 10am the week before. Be fast
Held on Wednesday evenings during a period of weeks. See our calendar
Show up at least 15 minutes before start
Only the clubs equipment is allowed
An introduction is held for first timers
Not a fixed itinerary. It is no problem to miss a week
We shoot indoors (no outdoor shoes) and outdoors (not during winter)
Indoors can get crowded. Show consideration by not using excessive amounts of perfume
Talk to an instructor if you want take the next step to get your own bow and become a member for guidance and advice on how to get your own equipment.
To cancel a reservation use the link provided in the confirmation mail you received when booking. To cancel later than 2 hours before start please send a mail to provapa@bkgripen.org
We follow the regulations of the national organisation and prohibit alcohol and drugs during archery. Smoking is prohibited on the range
Want to book a group event?
We can provide a fun event both for corporate and private groups, for colleagues and friends.
Price: 2 000 kr for non corporate, 2 500 kr for corporate, for up to 10 participants. Participants beyond these 10 cost 200 kr per person.
Concept: During approximately 1,5 hours you will learn the basics and then compete against each other
Requests: We are flexible if there are specific requests (safety permitting)
Send us a mail containing preferred date / time and the approximate number of participants. You can see if your date/time is already booked in our calendar
Good to know
Mondays to Thursdays the last bookable start time is 3pm
We can not accept groups with only children and/or youngsters
Outdoor shoes are not allowed in the indoors range. Bring indoors shoes (trainers etc) or we provide plastic shoe covers
During autumn / winter we shoot indoors and during spring / summer we shoot outdoors (weather permitting)
We follow the regulations of the national organisation and prohibit alcohol and drugs during archery. Smoking is prohibited on the range
Please note that we are a non profit organisation with instructors and administrators that do this on their spare time. This means that responses to mail and finding group instructors can take som time. Please allow for this when requesting a booking. Depending on the availability of the instructors it might not be possible to arrange a group at the requested date. A request is does not guarantee a booking. Naturally we do our best arrange your event